EPISODE SUMMARY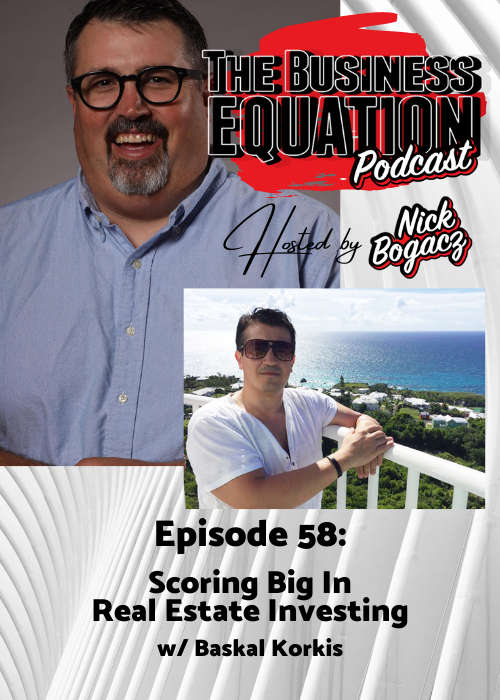 "Buy land, AJ…because God isn't making any more of it." — Tony Soprano
This father-son advice session that took place on the HBO hit series The Sopranos many years ago has rang true for centuries and still could not be more true today. And, as you'll learn today…it's not just the land. It's how you maximize the value of what's built on the land.
You officially have a front row seat to learn how you can make a splash in the real estate market from someone who's been doing it since he was 20 years old.
On Episode 58 of The Business Equation Podcast, host Nick Bogacz is joined by Baskal Korkis, a mogul who has built a tremendous reputation making decisive moves in the always-changing world of real estate.
At a young age, Baskal realized he wanted to make it big on his own and he found the ultimate vehicle to help him do so. Like many, he suffered through the downturn of 2008, adapted, battled, and came out stronger on the other side. Now, he owns multiple properties + businesses designed to maintain said properties and draw remarkable gains on each and every unit.
On this podcast, you will learn the basics to getting started with real estate, how to take advantage of tax credits available to investors, a new perspective on how to view your assets, and much, much more.
You can connect with Baskal on his Instagram page and learn more about his foundational course on personal finance and finding success in real estate investing by clicking here.
Nick is a published author! Click here to check out his book, The Pizza Equation: Slicing Up How to Run a Successful Pizza Enterprise.
MUSIC CREDIT: Theme music for The Business Equation Podcast – Never Forget by Gareth Johnson & Chris Bussey, via www.audionetwork.com
Subscribe to The Business Equation Podcast Today!
Connect with Nick Bogacz and The Business Equation