EPISODE SUMMARY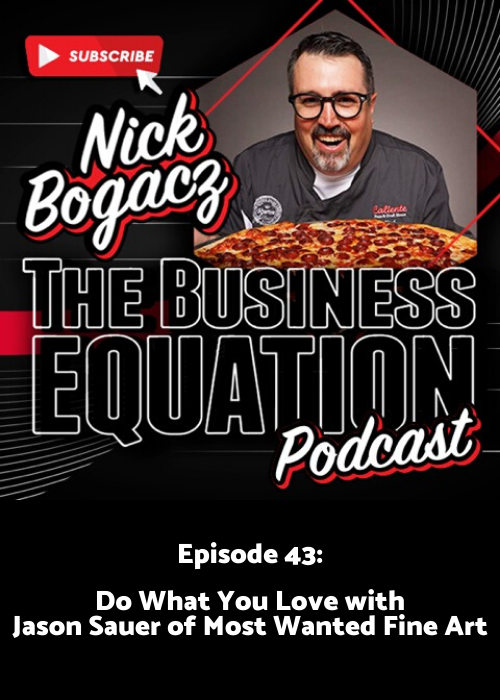 When entering a business, just like anything in life, one of the most important aspects to keep front of mind is finding something you love. Building a business from the ground up is hard work and presents many challenges. But if you love what you do, it's easier to keep your levels of passion and focus higher, thus pushing you forward and helping you stay the course…even through the hardest and most difficult of times.
In Episode 43 of The Business Equation Podcast, you will hear a conversation between two entrepreneurs who absolutely love what they do, each and every day. Host Nick Bogacz is joined by his friend Jason Sauer, owner of Most Wanted Fine Arts in Pittsburgh, PA. Their conversation covers all aspects of the growth and evolution both have experienced on their entrepreneurial path and dives into some of the wild and crazy exploits of Jason's unique art company.
As you'll learn, Jason has accepted other career opportunities, but has always been lured back to the entrepreneurial roots that started as a young child when he sold his first drawing to a friend on the bus for 10 cents. It's a true testament of painstaking love and devotion to your craft and a lesson all of us can embrace as we focus on building our enterprises, no matter the size or mission.
You'll also learn about Jason's latest piece of art and how YOU can be a part of it. He is currently collecting sticker donations from brands of all shapes and sizes. If you'd like to contribute, you can send your sticker(s) to:
Most Wanted Fine Art
5217 Hillcrest Street
Pittsburgh, PA 15224
You can also learn more about Most Wanted Fine Art at mostwantedfineart.com and follow Most Wanted Fine Art on Instagram!
Nick is a published author! Click here to check out his book, The Pizza Equation: Slicing Up How to Run a Successful Pizza Enterprise.
MUSIC CREDIT: Theme music for The Business Equation Podcast – Never Forget by Gareth Johnson & Chris Bussey, via www.audionetwork.com
Subscribe to The Business Equation Podcast Today!
Connect with Nick Bogacz and The Business Equation