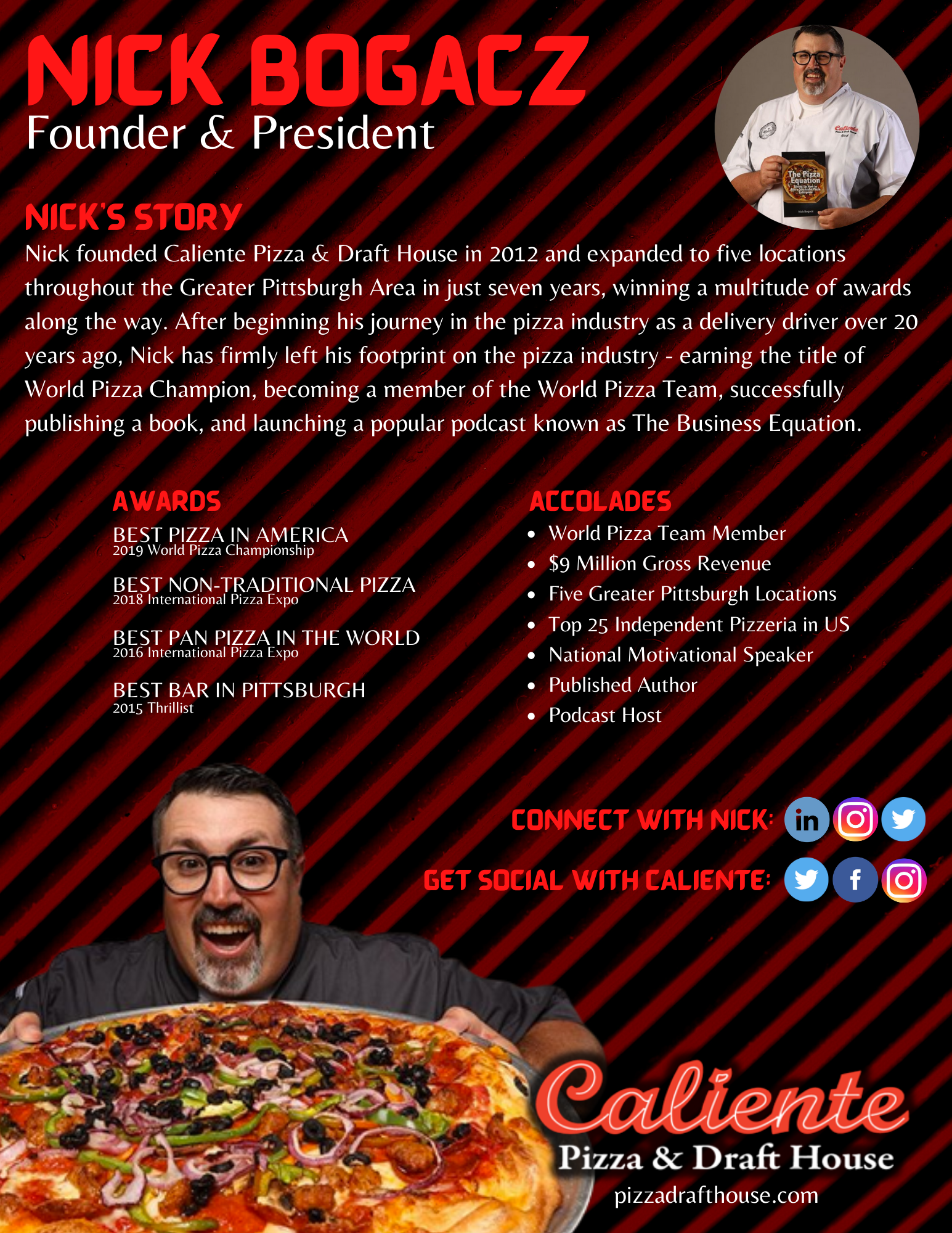 The Back Story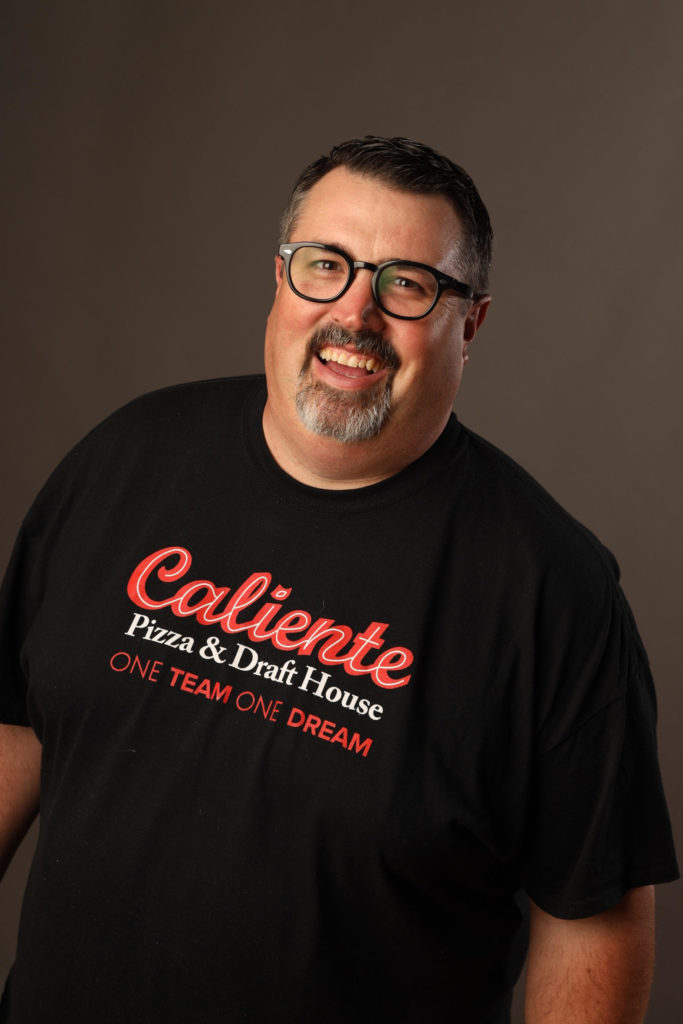 I am the Founder and President of Caliente Pizza & Draft House in Pittsburgh, PA. With over 20 years of experience in the industry, I opened our first Caliente location in the Fall of 2012 and have rapidly expanded our operations to five destinations throughout the Greater Pittsburgh Region. When not grinding and working towards conquering my next big goal, I love relaxing and spending quality time with my family. It's important to balance all of life's endeavors.
My journey in the pizza industry started as a delivery driver in 1996. I fell in love with the team atmosphere and high energy that the pizza business provides. I worked my way through many levels of corporate pizza chains, always keeping my eye on the prize: to one day open my own independent store.
From the very beginning, I focused on absorbing corporate structures, procedures, and business financial systems – all assets that helped me grow my enterprise successfully today. I love the freedom an independent operation provides for company decision making. I consider myself a motivating leader and team builder and have grown my company to over 250 employees by showcasing one solid philospohy: leading by example.
Our creative, dedicated team at Caliente have won numerous awards in the industry, including World Championships at the International Pizza Expo in 2016, 2017, and 2018. We also brought home the title of Best American Pizza at the World Pizza Championships in Parma, Italy in April of 2019. Our continued success earned me a coveted spot as part of the International Pizza Expo's family of speakers.
As my pizza empire was taking off, I realized the value craft beer could bring to our brand. Each Caliente location boasts over 20 taps and a bottle selection of over 150 beers. We specialize in hard-to-source craft beers from across the country and around the globe. We've also taken our dedication to quality artisanal beer to new levels by collaborating with various breweries in our backyard and beyond, the end result being exclusive products available only at the brewery itself and each Caliente location. We've had the honor of traveling to breweries including Strange Roots, Spoonwood, Hoppin' Frog, and others to bring special recipes to life and proudly pour them for our thirsty customers.
I believe in giving back. To the pizza industry and to other entrepreneurs looking to forge their own path in whatever niche sparks their passion. I released my first book, The Pizza Equation, in March of 2019 and its success has fueled my desire to help professionals at all points in their journey – which I do on my weekly podcast, The Business Equation. Each episode features tips, insights, and stories from business professionals who have walked the walk in their respective fields. Our collective goal is to give you the tools to solve your own personal business equation and find the personal and professional success you deserve!
I strive to meet goals daily by emphasizing a commitment to excellence, focus, and positive vibes. My wife, Angie, has been my biggest supporter and is proud to be a 'Pizza Wife for Life!' My incredible son and daughter have grown up in the industry and have taken a keen interest in the business. It won't be long until you discover their success stories, too.


About The Pizza Equation
If you're an entrepreneur who enjoys the restaurant industry and are looking to build an enterprise with pizza, this book is for you. It slices up the most important aspects of operating a pizza business and serves them all to you in one hot, handy guide.
DID YOU KNOW: Americans consume an average of 350 pizza slices every second! With three billion pizzas sold in the U.S. every year, it's a business model that's here to stay.
Internationally award-winning Pizza Champion Nick Bogacz's passion for pizza began with his first job as a delivery boy in 1996. Follow his meteoric rise through corporate chain pizza franchises and subsequent 2012 venture into owning five independent stores. Nick's expertise has gained him critical acclaim from pizza aficionados and industry leaders. In these pages, you'll benefit from Nick's ingenuity and industry insights as he boxes up what he's learned through hard work and a philosophy that "no matter what, I will not fail." His strategies will help you craft your own recipe for success and stand out in the pizza-tossing crowd.
Click Here to Get Your Copy of The Pizza Equation

2013
Best New Pizza Restaurant – voted by WPXI TV Pittsburgh
2015
Best Pizza in Bloomfield – Readers' Choice Awards, Pittsburgh Tribune Review
Best Bar in Pittsburgh – Thrillist

Best Late Night Eats (for our Cheesy Bread) – Thrillist

Best Pizza in the City – Gold – Readers' Choice Awards, Pittsburgh Tribune Review

Named Rogue Brewery's Pittsburgh Embassy

Best Breweries, Brewpubs and Beer Bars – Mid-Atlantic Beer Lovers

2016
Best Pan Pizza in the World – International Pizza Expo
Best Pittsburgh Bar with Best Late Night or Anytime Eats – Thrillist

Best Pizza in the City – Gold – Readers' Choice Awards, Pittsburgh Tribune Review
Best Pizza In the North Hills – Gold – Readers' Choice Awards, Pittsburgh Tribune Review
Best Hoagies in the North Hills – Gold – Readers' Choice Awards, Pittsburgh Tribune Review
2017
1st place East Division Traditional Pizza – International Pizza Expo
1st place East Division Non-Traditional Pizza – International Pizza Expo
Best Pizza in Pittsburgh – Gold – Readers' Choice Awards, Pittsburgh Tribune Review
Best Wings in the City – Gold – Readers' Choice Awards, Pittsburgh Tribune Review
Best Pizza in Bloomfield – Gold – Readers' Choice Awards, Pittsburgh Tribune Review
Best Pizza in the North Hills – Gold – Readers' Choice Awards, Pittsburgh Tribune Review

Named to Pizza Today's Hot 100 Independent Restaurants
2018
Best Non-Traditional Pizza in the World – International Pizza Expo

Named to Pizza Today's Hot 100 Independent Restaurants
2019
Best Pizza in America, as voted in Parma, Italy – World Pizza Championships




My Profile on World Pizza Champions
Pizza Today – A Conversation with Nick Bogacz of Caliente Pizza & Draft House
Restaurant Unstoppable: Pizza Shops, Third-Party Delivery Apps, Efficient Expansion
Pittsburgh's Caliente Pizza & Draft House Donate Pies to Light of Life
Personalities of Pittsburgh: Nick Bogacz's Love of Pizza Kept Bringing Him Back
The Pizza Equation Delivers Wise Business Lessons
How I Turned My Hobby Into a Career w/ Nick Bogacz of Caliente Pizza & Draft House
Nick Bogacz – From Delivery Driver to World Pizza Champion
Hampton Couple Turned Passion For Pizza Into Caliente Empire
The Secret Ingredient In Your Marketing: Direct Mail with Mail Shark
They Found Love In a Pizza Place: Angie and Nick Bogacz
Pittsburgh-based Pizza Restaurant Travels the Globe to Win Industry Accolades
Caliente Pizza & Draft House Owner's Book No Half-Baked Idea
'Do We Release the New Menu?' Despite COVID-19, Restaurant Owner Says 'Yes'
How to Hire and Retain Employees
"I was privileged to meet Nick and members of Caliente Pizza & Draft House years ago at a pizza competition. I was immediately impressed by their prowess in the pizza kitchen, as well as their funloving attitudes. Since then, I have witnessed Nick and his staff continually challenge themselves to be better every year. Winning trophies from numerous national pizza competitions is one thing, but it's also how Nick and his team relate to the industry. Nick is one of the best out there— approachable, knowledgeable and always raising the bar for independent pizzeria owners. He has secured his place on the pizza scene as a successful pizzaiolo in both the kitchen and office. Growing his restaurants to new heights and with great success, I am very excited to see what the future holds for Caliente. I am honored to call him a friend and colleague." — Brian Hernandez, Test Chef for Pizza Marketing Quarterly Magazine and US Pizza Team Director
__________
"Nick's business vision has made him an accomplished name in the pizza industry. His story and his many successes inspire pizzaiolos everywhere." — Scott Anthony, World Pizza Champion, Author, Consultant, and Owner of Punxy Pizza
"Nick has become one of the most successful independent pizzeria operators in America. His enthusiasm for and dedication to the craft have made Caliente Pizza & Draft House a favorite destination for pizza lovers in western Pennsylvania. I'm fortunate to count him amongst my pizza friends, and Pittsburgh is fortunate to have him making pizzas in such a great city." — Jeremy White, Editor in Chief, Pizza Today Magazine
__________
"A class act. This phrase describes Nick's mission and his success thus far. Now a book! His commitment to quality is evident in the five shops he's opened in six years, his three-time world championships and a crew that smiles as much as he does. He makes good food in a comfortable atmosphere and his guests can rinse it down with the best craft beers around. God bless Nick and his work family. They make me proud to be part of the "pizza equation!" — Nino Sunseri, Purveyor of Pizzas and Specialty Italian Foods For Over 50 Years
"Nick is always doing great things for his team and to elevate the pizza industry as a whole. He is committed to self-improvement while empowering his team to think bigger, always bringing an army to food shows to allow them to grow. As an industry leader, he gives back to the pizza community through seminars and great reads like this one." — Jeremy Galvin, President, Master Pizza Franchise Group LLC
"It's an indescribable feeling to experience a brand for the first time and know instantly that you're part of something special. This is how I felt the first time I visited Caliente Pizza & Draft House in Bloomfield, PA. As a loyal advocate of the independent beer scene, as well as a lover of all things pizza, I can say that Caliente had everything I could ask for thanks to Nick's vision. He understands where the beer world is headed, and it's not all about promo girls and pitcher specials—but rather, offering a diverse selection of beers from independent brands worldwide. Or tapping a keg of a rare beer and seeing how quickly enthusiasts lined up to enjoy. Nick's successful approach to building a beer program—paired with extraordinary, creative and downright delicious pizzas—has created a recipe for success that's allowed the Caliente brand to grow from one destination to five in just seven years. The first line of the first feature I wrote for Caliente was a quote from Nick: "All I wanted to do was make great pizza." Staying true to this has helped him blaze an incredible trail through the pizza industry that includes rapid expansion, countless partnerships and relationships, a published book, and a podcast where his success can be shared with other entrepreneurs. I am proud to call Nick a colleague, a business partner and, most importantly, a friend. His success is well deserved." — Jason Cercone, Founder, Cercone Consulting

Caliente Pizza & Draft House – Bloomfield
4624 Liberty Avenue
Pittsburgh, PA 15224
412-682-1414
Caliente Pizza & Draft House – Hampton Township
4706 William Flynn Highway
Allison Park, PA 15101
412-486-1010
Caliente Pizza & Draft House – Mount Lebanon
329 Castle Shannon Blvd.
Pittsburgh, PA 15232
412-344-5566
Caliente Pizza & Draft House – Aspinwall
225 Commercial Avenue
Aspinwall, PA 15215
412-784-1010
Caliente Pizza & Draft House – Monroeville
2125 Mosside Blvd.
Monroeville, PA 15146
412-457-8777