EPISODE SUMMARY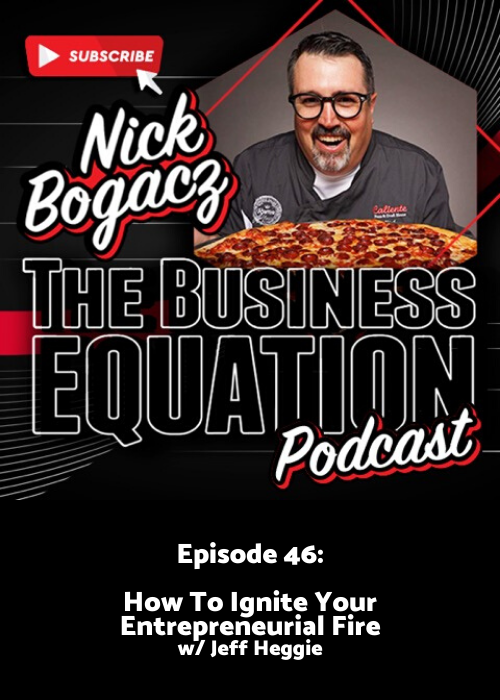 It takes a special mindset to become an entrepreneur. But, you don't have to be a genius or have college degrees stacked on top of college degrees to make it work. It takes drive, commitment, a willingness to always be learning, and an ability to adapt to situations that unfold before you…among other qualities. The most important factor is your will to succeed, at any cost, by any means necessary.
In Episode 46 of The Business Equation Podcast, host Nick Bogacz is joined by Jeff Heggie of Jeff Heggie Coaching to dive deep into ways you can ignite your entrepreneurial fire. Jeff talks about his diverse background, how he grew his business, and how he was able to parlay that business into a successful coaching platform. In addition, Nick shares that even though he didn't go to college, he never stopped learning and turned his vehicle into a mobile university, letting podcasts and audiobooks build his skill sets as he traveled from point A to point B.
Nick and Jeff both discuss the power of mentorship and how, even if you don't know anyone personally that can serve as your mentor, you can follow business leaders past and present as each will have something special to offer you as you grow your business and, more importantly, your mindset.
You can learn more about Jeff's coaching business, as well as connect with him on social media, by checking out his website jeffheggie.com.
Nick is a published author! Click here to check out his book, The Pizza Equation: Slicing Up How to Run a Successful Pizza Enterprise.
MUSIC CREDIT: Theme music for The Business Equation Podcast – Never Forget by Gareth Johnson & Chris Bussey, via www.audionetwork.com
Subscribe to The Business Equation Podcast Today!
Connect with Nick Bogacz and The Business Equation