EPISODE SUMMARY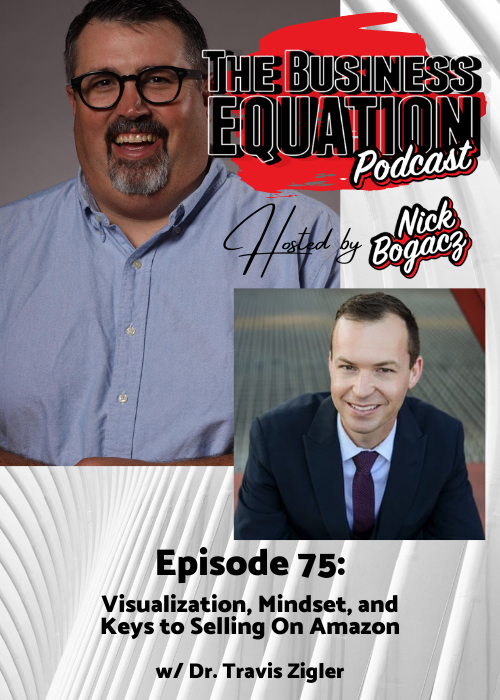 The power of visualization is one of the most powerful assets you have in your arsenal…IF you know how to use it.
Visualizing where you want to be in life, in business, and literally transporting yourself to those moments in your mind can make the act of these visuals becoming reality that much more attainable. It's not enough to just say "I want to achieve X." You have to truly believe in the goal and, more importantly, believe in your ability to achieve it. And that starts with mindset.
On Episode 75 of The Business Equation Podcast, Nick Bogacz is joined by the one and only Dr. Travis Zigler, the Founder of Eye Love and a thriving e-commerce entrepreneur. Travis set a goal to retire from optometry by age 40 and, after being laughed at by numerous financial advisors, found someone to help him create a game plan to accomplish the goal. Which he did. Years ahead of schedule.
Now, Travis operates two multi-million dollar businesses that you'll learn about today. His methods of success involve harnessing the power of Amazon advertising and helping other entrepreneurs do the same. In this episode, you'll get tips on how to successfully sell on Amazon, how to visualize what you want in your life, why mindset is the #1 driving force in any entrepreneurial venture, the secret to effective content creation, and much, much more.
MORE ABOUT TRAVIS: Dr. Travis Zigler is a recovering optometrist turned e-commerce entrepreneur. He is the founder of Eye Love, whose mission is to heal 1,000,000 dry eye sufferers naturally. Dr. Travis and his wife, Dr. Jenna Zigler, use the profits from Eye Love to fund free clinics in Jamaica and the US through their charity, the Eye Love Cares Foundation.
Due to the success of Eye Love, others have asked if Dr. Travis would help them grow their business online, and more specifically with Amazon, which is one of his superpowers. Specializing in Amazon Pay Per Click (PPC), Dr. Travis and his team help businesses scale their Amazon sales and help increase brand clout.
You can connect with Travis on Facebook, YouTube, and at profitablepineapple.com.
Nick is a published author! Click here to check out his book, The Pizza Equation: Slicing Up How to Run a Successful Pizza Enterprise.
MUSIC CREDIT: Theme music for The Business Equation Podcast – Never Forget by Gareth Johnson & Chris Bussey, via www.audionetwork.com
Subscribe to The Business Equation Podcast Today!
Connect with Nick Bogacz and The Business Equation