EPISODE SUMMARY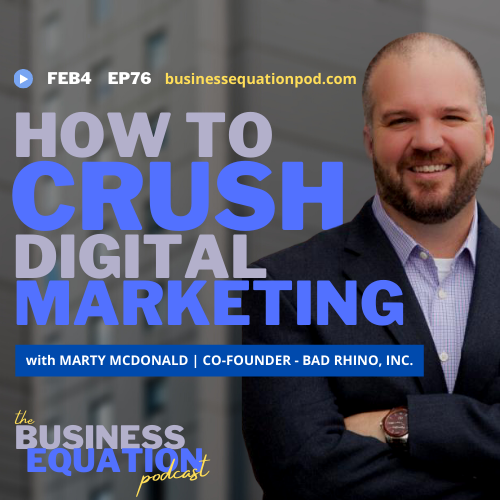 The world of digital marketing is constantly changing, evolving, and improving. Staying on top of algorithm shifts, ongoing trends, and the latest developments requires a lot of effort. But, that effort is worth it if you want your business to have a relevant presence in the digital space.
On Episode 76 of The Business Equation, Nick Bogacz welcomes Marty McDonald, Co-Founder and CEO of Bad Rhino, Inc. onto the show to discuss digital marketing strategies, approaches you can implement to help you maximize your social media efforts, and how to evaluate your growth and development on your platforms. Nick and Marty also talk craft beer, an industry that Marty and Bad Rhino is heavily involved with and one Nick has implemented into the daily dynamic of his five Caliente Pizza & Draft House destinations in Pittsburgh.
MORE ABOUT MARTY: Marty McDonald is the Co-Founder and CEO of Bad Rhino Inc., a full-service social media marketing agency founded in 2011. Since 2002, Marty has consulted with small businesses and startups to help them succeed online.
Bad Rhino services clients locally, nationally, and globally. Their full-service approach means they not only create amazing strategies and plans for their clients, but also implement and manage them on a day-to-day basis.
You can connect with Marty and learn more about Bad Rhino on their website: badrhinoinc.com
Subscribe to The Business Equation Podcast Today!
Connect with Nick Bogacz and The Business Equation