EPISODE SUMMARY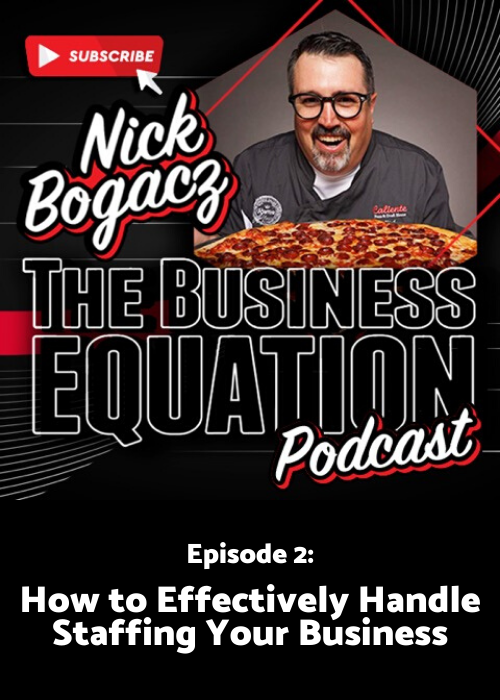 Staffing your business can be a daunting task. There are many elements in play when determining the right people to join your team and, even with all the information in the world, you still don't know if a person will be a good fit until you let them suit up and get in the game with everyone else.
In addition, there's only so much resumes and references can tell you. Most times, you have to be willing to roll the dice on someone and teach them the ways of your company in order to make them a solid contributor to the greater good. 
In Episode 2 of The Business Equation Podcast, host Nick Bogacz tackles the challenging, unpredictable aspects of staffing and shares insights on how to ensure you're effectively leveraging this segment of your business.
Throughout the episode, Nick covers various points of staffing that he's encountered while building his business. He shares personal stories that his team has appreciated and provides solutions to many of the staffing issues facing managers and owners every day, including:
How do you find the proper staff?

How to be like Google without being Google

Building a culture that everyone wants to be a part of

Making your holiday parties unique, memorable, and for EVERYONE
Implementing Employee of the Month programs and DOING THEM CONSISTENTLY

Celebrating years of service with your employees

Awarding bonuses to the right members of your team
Nick is also a published author! Click here to check out his book, The Pizza Equation: Slicing Up How to Run a Successful Pizza Enterprise.
MUSIC CREDIT: Theme music for The Business Equation Podcast – Never Forget by Gareth Johnson & Chris Bussey, via www.audionetwork.com
Subscribe to The Business Equation Podcast Today!
Connect with Nick Bogacz and The Business Equation