EPISODE SUMMARY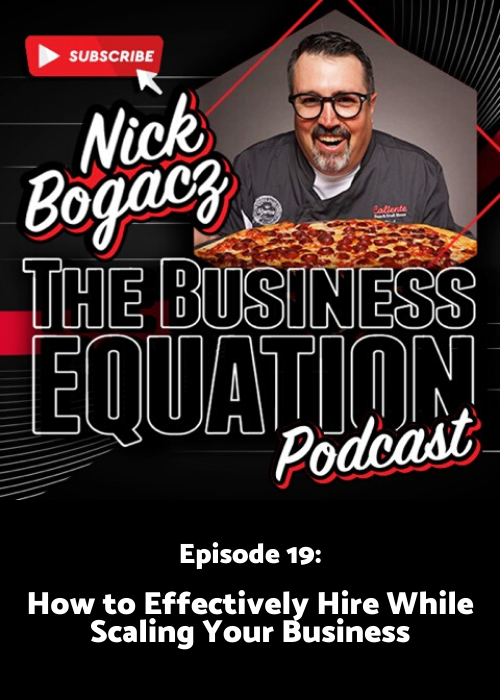 No matter what point of growth your business is in, whether you just opened your doors and the thought of scaling up seems light years away or you're in a prime position to begin expansion immediately, hiring the right people to keep your machine humming is vital to your plans unfolding accordingly. After all, your people are your lifeblood. And it's through their hard work AND their belief in YOUR vision that your business is flourishing to begin with. 
In Episode 19 of The Business Equation Podcast, host Nick Bogacz tackles the very important subject of hiring the right people while your business is growing. Much like the advice Nick gave in Episode 2 about the fundamentals of staffing, this episode dives into reasons why you should hire people who can help you overcome your own personal weaknesses…even if you can't afford them, as well as why it's important to look at your existing staff for skills and talents that can be helpful in other areas of your enterprise.
And that's just the tip of the iceberg! You'll also learn:
The key component to mastering the staffing game

Why you need to focus on the three things you do really well AND the three things that make you the most money

Why you need to build your infrastructure before you even really need it

How thinking long-term will help you hire people now AND as your business continues to grow

Why you should ALWAYS higher A-Players…whether you can afford them or not
Nick is also a published author! Click here to check out his book, The Pizza Equation: Slicing Up How to Run a Successful Pizza Enterprise.
MUSIC CREDIT: Theme music for The Business Equation Podcast – Never Forget by Gareth Johnson & Chris Bussey, via www.audionetwork.com
Subscribe to The Business Equation Podcast Today!
Connect with Nick Bogacz and The Business Equation