EPISODE SUMMARY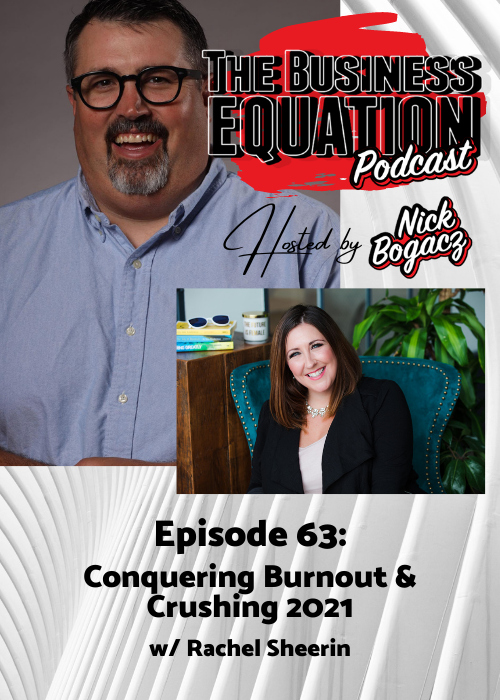 Burnout. That dreaded 'B' word that none of us want to encounter. It can stop progress in its tracks and tear results apart at the seam without blinking an eye.
Fortunately, there are ways to avoid burnout. And today, you will discover how from one of the best authorities on the subject!
On Episode 63 of The Business Equation Podcast, Nick Bogacz is joined by the one and only Rachel Sheerin. Rachel is a motivational keynote speaker, sales trainer, margarita enthusiast extraordinaire, and the voice of the F This S Podcast. Rachel is a true force of nature and brings an overflowing glass of positive vibes to this episode of the show.
Nick and Rachel talk about a wide range of topics – from pivots and adaptations brought on by COVID-19 to Rachel's speaking engagements now taking place virtually to ways you can conquer burnout and depression to Rachel's TEDx Talk to setting yourself up to dominate 2021 to many, many other stops in between. This is one episode of The Business Equation you don't want to miss!
You can connect with all things Rachel Sheerin on her website rachelsheerin.com and find her podcast, F This S, wherever you listen to your favorite podcasts!
Nick is a published author! Click here to check out his book, The Pizza Equation: Slicing Up How to Run a Successful Pizza Enterprise.
MUSIC CREDIT: Theme music for The Business Equation Podcast – Never Forget by Gareth Johnson & Chris Bussey, via www.audionetwork.com
Subscribe to The Business Equation Podcast Today!
Connect with Nick Bogacz and The Business Equation