EPISODE SUMMARY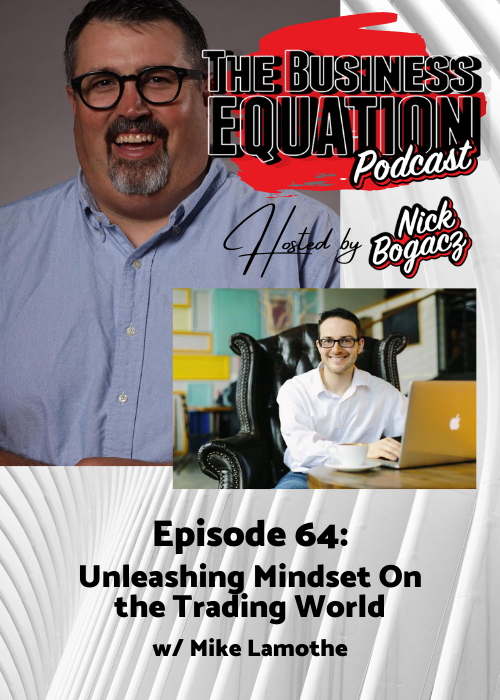 Mindset may not be the first thing you think about when it comes to the world of investments and trading. But, if you've listened to past episodes of The Business Equation, you know mindset is critical in all endeavors of life, personal and professional. It literally makes or breaks the way you attack scenarios that cross your path on a daily basis and embracing a negative mindset can be crippling to your results.
In Episode 64 of The Business Equation Podcast, Nick Bogacz is joined by Mike Lamothe of Mara Wealth. He is a Trading Mindset Coach and helps people develop their skill sets with trading on the stock market. He has been called one of the BEST Trading Mindset coaches in the United States and today, he brings his wealth of knowledge to the podcast waves of The Business Equation.
FROM THE MARA WEALTH WEBSITE: Michael Lamothe has 20+ years of research and trading experience. After years of encountering obstacles, Michael came up with a solution to help traders succeed in the market. He coaches traders to find a style that works with your schedule and lifestyle, and his methodology will inspire you to make positive changes to your trading routine.
Learn more about Mike and Mara Wealth at www.marawealth.com
Nick is a published author! Click here to check out his book, The Pizza Equation: Slicing Up How to Run a Successful Pizza Enterprise.
MUSIC CREDIT: Theme music for The Business Equation Podcast – Never Forget by Gareth Johnson & Chris Bussey, via www.audionetwork.com
Subscribe to The Business Equation Podcast Today!
Connect with Nick Bogacz and The Business Equation