EPISODE SUMMARY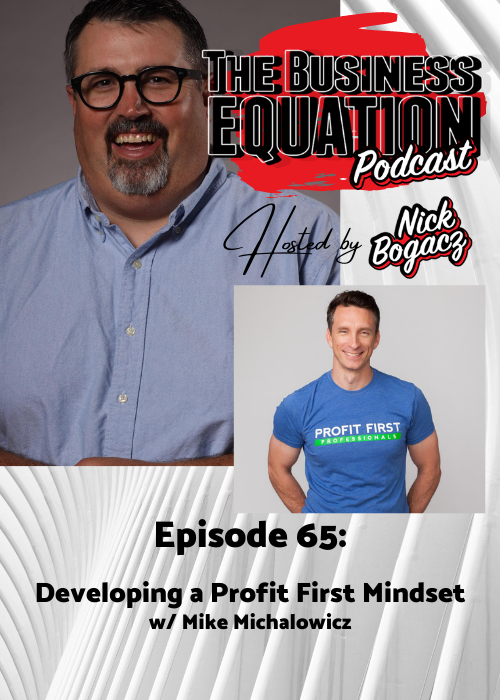 Too often, business owners pay themselves last as they grind, push, battle, and pull out all the stops to get their enterprise off the ground. All of us have been predisposed to look at the bottom line, then draw a salary. And if there's nothing to take, those are the breaks.
It can be a vicious cycle to get nothing from all the hours, the blood, the sweat, and the tears that are poured into launching a business. This is why you need to change your entire mindset.
This is why you need to think Profit First.
On Episode 65 of The Business Equation Podcast, Nick Bogacz is joined by none other than Mike Michalowicz, successful entrepreneur and world-renowned author of books including Profit First, The Pumpkin Plan, The Toilet Paper Entrepreneur, Clockwork, and others.
FROM MIKE'S WEBSITE: I became a business author with a clear mission: Eradicate entrepreneurial poverty. I have devoted my life to fixing those struggles for you, for myself, and for every entrepreneur I have the privilege to connect with. Successful entrepreneurship is not easy, but it can be a whole lot simpler. That is what I am here to do with you, right now.
On this podcast, Nick and Mike discuss Mike's books and dig into the profit first mindset. Mike also talks about why entrepreneurs (and pretty much anyone, for that matter) should adopt the Profit First system into their lives. Mike and Nick also talk about how businesses have reinvented themselves through COVID-19 and found new ways to thrive and succeed.
All of Mike's books are highly recommended, as are his courses. You can connect with Mike and discover everything he has to offer at mikemichalowicz.com.
Nick is a published author! Click here to check out his book, The Pizza Equation: Slicing Up How to Run a Successful Pizza Enterprise.
MUSIC CREDIT: Theme music for The Business Equation Podcast – Never Forget by Gareth Johnson & Chris Bussey, via www.audionetwork.com

Subscribe to The Business Equation Podcast Today!
Connect with Nick Bogacz and The Business Equation