EPISODE SUMMARY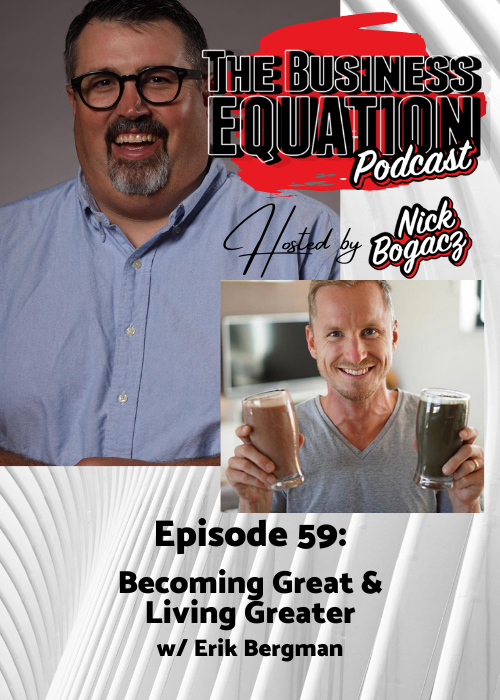 Are you taking the necessary steps in your life to become great and live your best life?
Doing so is a key component to your success in business and in life overall. And today, we are going to hear the reasons why these actions are so important from a guy who's lived it all…and then some!
On Episode 59 of The Business Equation, host Nick Bogacz is joined by Erik Bergman of Great.com. If you follow him on Instagram, you know him as @smilingerik. And these days, he definitely has a lot of reasons to bring that ear to ear grin center stage.

From the Great.com Website: Great.com is the brainchild of Erik Bergman, serial entrepreneur, social influencer, and environmental philanthropist. Erik helped grow his previous company to over 300 employees and a $200 million valuation before stepping away to launch Great.com, an organization that donates 100% of its profits to climate change initiatives.
In this interview, Erik reveals his story of struggle, perseverance, self discovery, reinvention, and doing what was needed to ensure he found happiness in his world. Not only does Erik bring a story of real inspiration to the podcast waves, he also shares words of advice that can help you find clarity in your mission and reach new levels of happiness, growth, and prosperity.
You can follow Erik on Instagram and be sure to check out great.com AND Erik's podcast, Becoming Great.com, wherever you listen to podcasts.
Nick is a published author! Click here to check out his book, The Pizza Equation: Slicing Up How to Run a Successful Pizza Enterprise.
MUSIC CREDIT: Theme music for The Business Equation Podcast – Never Forget by Gareth Johnson & Chris Bussey, via www.audionetwork.com
Subscribe to The Business Equation Podcast Today!
Connect with Nick Bogacz and The Business Equation