EPISODE SUMMARY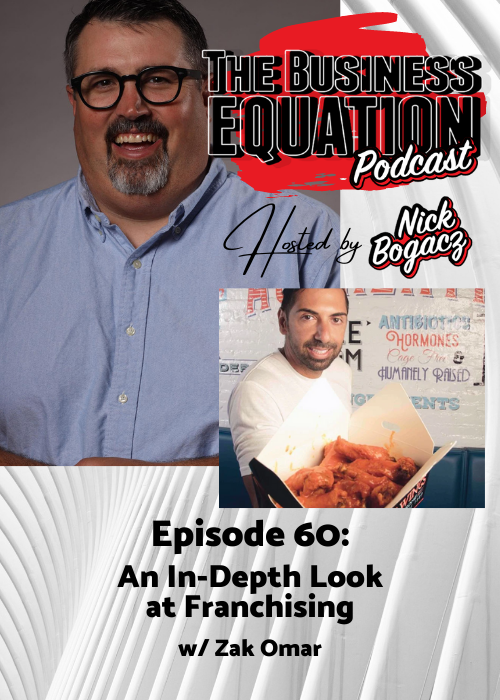 What is a franchise business? Well, in short, a franchise business model is based on a marketing concept which can be adopted by an organization as a strategy for business expansion. Where implemented, a franchisor licenses its know-how, procedures, intellectual property, use of its business model, brand, and rights to sell its branded products and services to a franchisee.
If you're looking to start your own business, but aren't quite sure where to specialize, a franchise opportunity could be exactly what you're looking for. It allows you to operate a thriving enterprise while leveraging the power of an established brand, as well as its logos, marketing, advertising, and ability to purchase goods at a lower cost due to volume discounts.
On Episode 60 of The Business Equation, Nick Bogacz is joined by Zak Omar, CEO of Atomic Wings, based in New York City. Atomic Wings is a franchise business model that is currently expanding their footprint across New York and into other states as well. According to Zak, they have a nationwide focus, but are looking to grow efficiently, with long-term success in mind.
In this episode, you'll hear how Zak has found success in the franchise world, not just with Atomic Wings but with another well-known restaurant that America runs on. Zak will let you know some of the advantages of becoming a franchise owner as he and Nick discuss how the process works and why it's such a popular business model.
If you'd like to learn more and discover whether a franchise opportunity is right for you, visit the Atomic Wings website and click on the Franchising tab!

Nick is a published author! Click here to check out his book, The Pizza Equation: Slicing Up How to Run a Successful Pizza Enterprise.
MUSIC CREDIT: Theme music for The Business Equation Podcast – Never Forget by Gareth Johnson & Chris Bussey, via www.audionetwork.com
Subscribe to The Business Equation Podcast Today!
Connect with Nick Bogacz and The Business Equation