EPISODE SUMMARY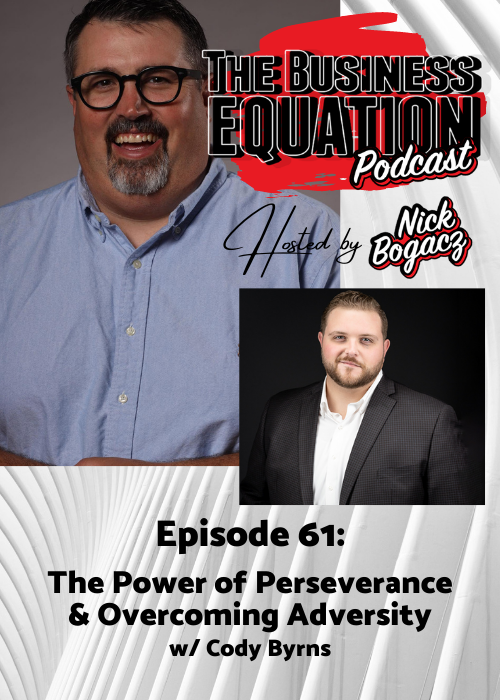 We've talked about it on The Business Equation in the past – no matter how hard you may try, you simply can't avoid adversity as an entrepreneur. Even the most successful business owners, leaders, and professionals have had seemingly insurmountable odds to overcome at one point in their venture. But there's no battle that can't be won. No mountain that can't be climbed. As Raul Vallacis said on Episode 56 of the show, "shit could always be worse."
Today's episode of The Business Equation brings you up close and personal with one of the greatest stories of perseverance and overcoming adversity we've had on the show to date. On Episode 61, Nick welcomes Cody Byrns to the show for an inspirational interview that will change your personal and professional outlook.
Cody is an international speaker and best-selling author and, from an early age, had a clear vision of what he truly wanted to accomplish in life. Then, in a split second, everything changed. Cody was involved in a horrible car accident that nearly took his life.
FROM CODY'S WEBSITE: While stopped at a red light on the highway, Cody was rear-ended by a box-truck that failed to stop. As a result, he was considered dead until first responders saw his hand move. He received many injuries that day, including severe burns to almost 40% of his body. After years of countless surgeries and rehabilitation, Cody has chosen to not allow his scars to keep him bound in bitterness and defeat. Instead, he uses his story to uplift others.
Today, you'll hear Cody's story, as well as how he's transformed his accident into a message of hope for people who need reminded how precious life truly is. Nick and Cody also talk about how he's pivoted his business model during COVID-19, with live speaking engagements at a standstill due to the ongoing pandemic.
Hit the play button and get ready to be inspired. This was an episode for the books!
You can connect with Cody and learn more about who he is, what he does, and how he can inspire you more at www.codybyrns.com.
Nick is a published author! Click here to check out his book, The Pizza Equation: Slicing Up How to Run a Successful Pizza Enterprise.
MUSIC CREDIT: Theme music for The Business Equation Podcast – Never Forget by Gareth Johnson & Chris Bussey, via www.audionetwork.com
Subscribe to The Business Equation Podcast Today!
Connect with Nick Bogacz and The Business Equation