EPISODE SUMMARY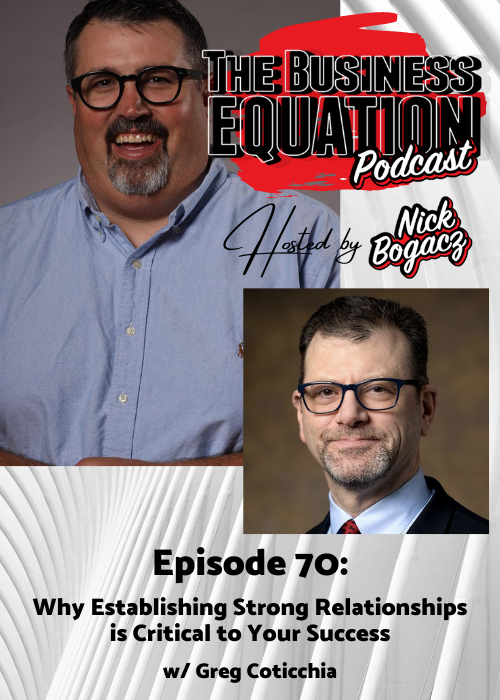 Undoubtedly, we've all been in a position where we worked for someone who didn't appreciate the work we did and undervalued our efforts. It's a terrible feeling. On the flip side of that coin is positive reinforcement. It should come as no surprise that a simple 'thank you' can go miles with someone who's dedicated to helping you succeed.
Building relationships is one of the most critical aspects of success in life, on a professional level and a personal level. The way you establish your relationship with colleagues and others you choose to business with can make or break your success. People who see you as a leader will look to you for guidance and how you nurture that relationship will tell the story of whether that person will stay loyal to you and your brand or look for other opportunities and "greener pastures."
On Episode 70 of The Business Equation Podcast, Nick Bogacz is joined by Greg Coticchia, a successful serial entrepreneur and professor at Carnegie Mellon University in Pittsburgh. The duo discuss Greg's past success, break down why building strong, meaningful relationships will help you in all of your endeavors, and much more.
To learn more about Greg, connect with him on Linked In.
Nick is a published author! Click here to check out his book, The Pizza Equation: Slicing Up How to Run a Successful Pizza Enterprise.
MUSIC CREDIT: Theme music for The Business Equation Podcast – Never Forget by Gareth Johnson & Chris Bussey, via www.audionetwork.com
Subscribe to The Business Equation Podcast Today!
Connect with Nick Bogacz and The Business Equation