EPISODE SUMMARY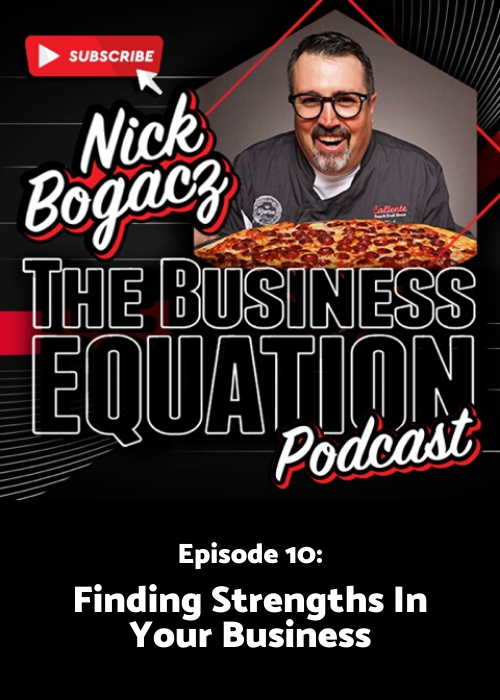 One of the most important instincts a business owner can possess is self-awareness. In the creation, growing, and evolution of your enterprise, there will be aspects that you excel at…and aspects where you fall short. This is nothing to be ashamed of. It's reality. This is when it's critical to your success to identify your biggest strengths and surround yourself with people who can help you overcome your weaknesses.
In Episode 10 of The Business Equation Podcast, host Nick Bogacz takes an in-depth look at how you can identify your biggest strengths and put them to work for you in your business. Additionally, Nick talks about why it's important to get to a point where delegation is realistic as soon as possible so your time and attention can be focused towards the most important aspects of growing your business.
Some of the key points you'll learn about in Episode 10 of The Business Equation Podcast include:
 Find your strengths and admit where you're weak early in the game

"Drop the hats" as quickly as you can 

Why setting the goal of "do less quick" is so important to your success

How dedicating your time to the 'right' areas of your business can lead to significant gains

Why you should never be afraid to delegate

Discover your biggest niche in your business and emphasize it as soon as possible
Nick is also a published author! Click here to check out his book, The Pizza Equation: Slicing Up How to Run a Successful Pizza Enterprise.
MUSIC CREDIT: Theme music for The Business Equation Podcast – Never Forget by Gareth Johnson & Chris Bussey, via www.audionetwork.com
Subscribe to The Business Equation Podcast Today!
Connect with Nick Bogacz and The Business Equation