EPISODE SUMMARY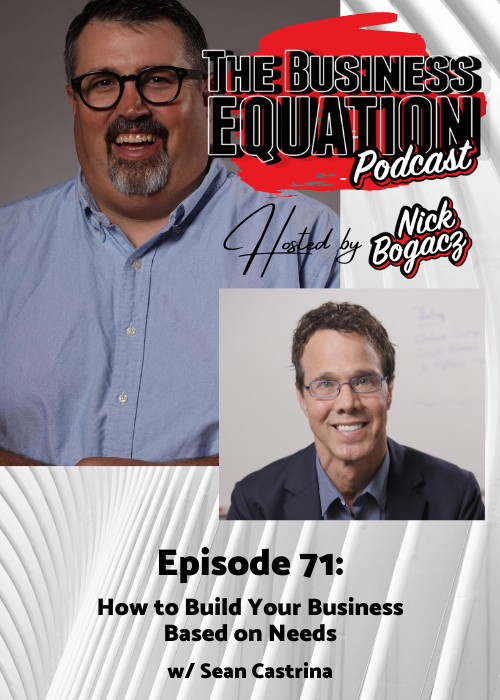 Many great businesses were born because someone had the courage to build a business around something they truly believed in. Their passion for their product, service, or mission allowed these entrepreneurs to build a healthy, sustainable enterprise that opened up doors of opportunity never before seen.
Likewise, some of the greatest businesses in the world came from the basis of need. Someone realized there was a lack of something important at their disposal, had the forward-thinking to conclude others were probably experiencing the same pain, and developed a business that helped solve the problem. Servicing a need, combined with savvy business practices and a strong understanding of your strengths and weaknesses, can lead to an incredibly successful business that will stand the test of time.
In Episode 71 of The Business Equation Podcast, Nick Bogacz is joined by Sean Castrina, a successful entrepreneur who has started and/or sold over 20 businesses in his career. He is currently operating eight thriving companies in multiple niches, all built on the premise of filling a void in the marketplace that Sean himself experienced as a customer.
In this episode, Nick and Sean dive into how Sean got his start, how to build your own professional "cabinet" of resources, mentors, and other important people that will help you grow, why building a business based on need rivals a business based on passion alone, how Sean deals with over-demanding clients, and much, much more.
You can connect with Sean and pick up a free copy of his book, 8 Unbreakable Rules For Business Start-Up Success, by visiting seancastrina.com today!
Nick is a published author! Click here to check out his book, The Pizza Equation: Slicing Up How to Run a Successful Pizza Enterprise.

MUSIC CREDIT: Theme music for The Business Equation Podcast – Never Forget by Gareth Johnson & Chris Bussey, via www.audionetwork.com
Subscribe to The Business Equation Podcast Today!
Connect with Nick Bogacz and The Business Equation