EPISODE SUMMARY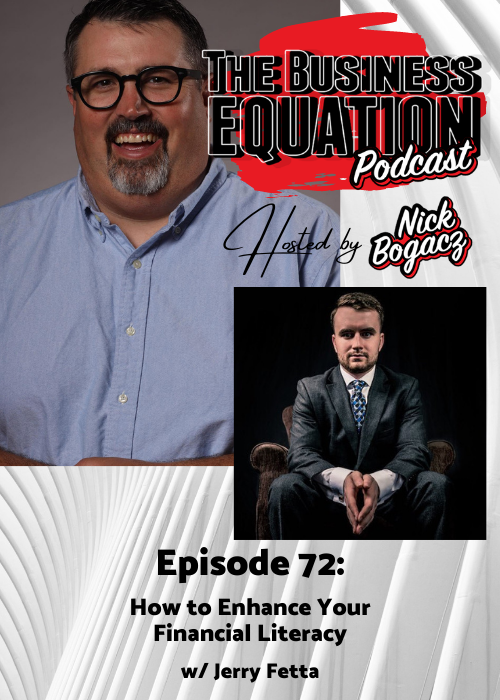 "With money, simple, true, and applicable means it's going to work." — Jerry Fetta
Happy New Year! As we kick off 2021, we look forward to continuing our weekly tradition of bringing you engaging, insightful, actionable business content each and every Monday. And this installment is one that EVERYONE, entrepreneurs and business professionals in all industries alike, need to listen to.
On Episode 72 of The Business Equation Podcast, Nick Bogacz is joined by Jerry Fetta, a financial dynamo who started his successful journey through the financial world at the age of 18 and never looked back. This conversation is filled with useful information about tax benefits, smart investing, when it makes sense to set up your business as an S-Corp versus an LLC, and much, much more.
As the Founder and CEO of Wealth DynamX, a Wealth Creation Firm that helps clients across the U.S. build wealth, Jerry has a passion for providing financial education for families that causes them to build wealth and navigate their economic futures with certainty. Jerry is married to his wife and business partner, Alexa, and together they have taken Wealth DynamX from nothing to a mutli-million dollar company over the last 4 years!
You can connect with Jerry, pick up a copy of his book The Blueprint to Financial Freedom, and learn more about how to best manage your financial future by visiting wealthdynamx.com!
Nick is a published author! Click here to check out his book, The Pizza Equation: Slicing Up How to Run a Successful Pizza Enterprise.
MUSIC CREDIT: Theme music for The Business Equation Podcast – Never Forget by Gareth Johnson & Chris Bussey, via www.audionetwork.com
Subscribe to The Business Equation Podcast Today!
Connect with Nick Bogacz and The Business Equation