EPISODE SUMMARY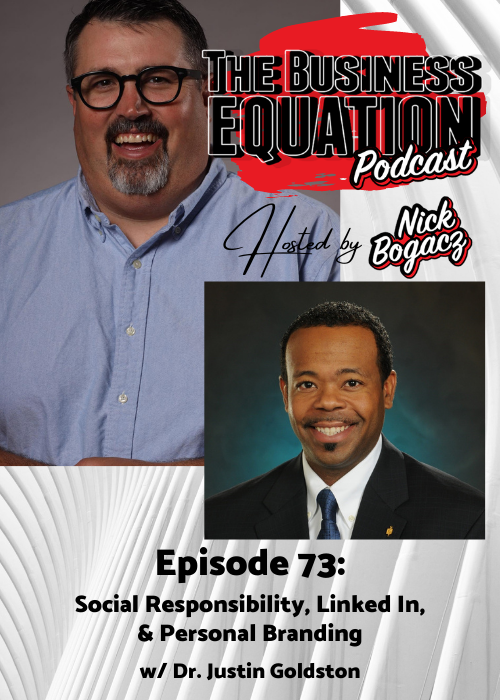 With markets and overall business climate continuing to shift and evolve, the importance of social responsibility cannot be overlooked. Many companies are beginning to evaluate how they're presenting themselves to the world and finding ways to better connect with their target customers. Without question, you'll need to integrate these types of practices into your company culture if you hope to stay ahead of the curve, too.
Episode 73 of The Business Equation Podcast takes a deep look at many areas that are critical to a brand's success. These areas include social responsibility, the importance of caring for your employees, how to best leverage Linked In to your advantage, why building a personal brand before you ever start a company can be critical to your longevity, and much, much more.
To do this, host Nick Bogacz welcomes Penn State University professor Dr. Justin Goldston on to the podcast. The duo have a captivating back and forth and dig in to critical aspects relevant to today's business professional.
MORE ON DR. GOLDSTON: Dr. Justin Goldston is a Professor of Project and Supply Chain Management at Penn State University. He is also an industry veteran where he has worked with organizations around the world such as Intel, Siemens, and Blue Buffalo on business performance improvement, organizational change, and enterprise-wide digital transformation initiatives.
Dr. Goldston is the author of multiple peer-reviewed journal articles on supply chain management and innovative technologies, of Critical Success Factors in ERP Implementations, and is a five-time TEDx speaker where he discussed emerging technologies such as blockchain and Artificial Intelligence.
You can click here to connect with Dr. Goldston on Linked In.
Nick is a published author! Click here to check out his book, The Pizza Equation: Slicing Up How to Run a Successful Pizza Enterprise.

MUSIC CREDIT: Theme music for The Business Equation Podcast – Never Forget by Gareth Johnson & Chris Bussey, via www.audionetwork.com
Subscribe to The Business Equation Podcast Today!
Connect with Nick Bogacz and The Business Equation