EPISODE SUMMARY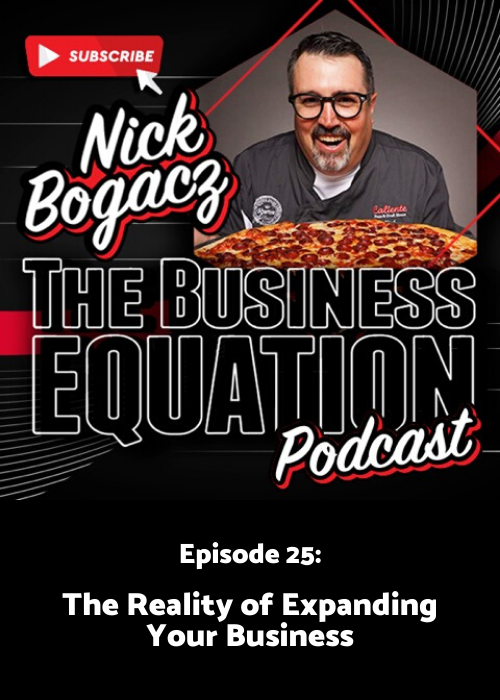 In some way, shape, or form, anyone who starts a business wants it to grow. Growth can be defined in numerous ways. You may want to expand your client list. Or reach a point where hiring a virtual assistant to take some tasks off of your plate becomes feasible. You may want to extend your services into other cities, states, and countries across the globe. Or maybe you want to open multiple locations.
As you get ready to tune in to Episode 25 of The Business Equation Podcast, host Nick Bogacz is currently in the process of expanding his business once again. If you've listened to past episodes of the show, you know that Nick has grown his pizza enterprise, Caliente Pizza & Draft House, from one location to five in under seven years. Now, Nick is on the verge of opening his 6th location in the Pittsburgh region and, today, he's going to share some realities you need to understand as you plot growth within your business. 
Throughout this episode, you will learn:
What you should look for when planning to expand your business

Simple processes to follow when you're ready to expand

Why it's important to have YOUR language in any sales agreement you sign

How Nick flips his restaurants "Bar Rescue" style and gets them ready to open in a short timeframe

How to know what's important when expanding

Why you should know all your risks before making the leap to expansion

And more
Nick is also a published author! Click here to check out his book, The Pizza Equation: Slicing Up How to Run a Successful Pizza Enterprise.
MUSIC CREDIT: Theme music for The Business Equation Podcast – Never Forget by Gareth Johnson & Chris Bussey, via www.audionetwork.com
Subscribe to The Business Equation Podcast Today!
Connect with Nick Bogacz and The Business Equation