EPISODE SUMMARY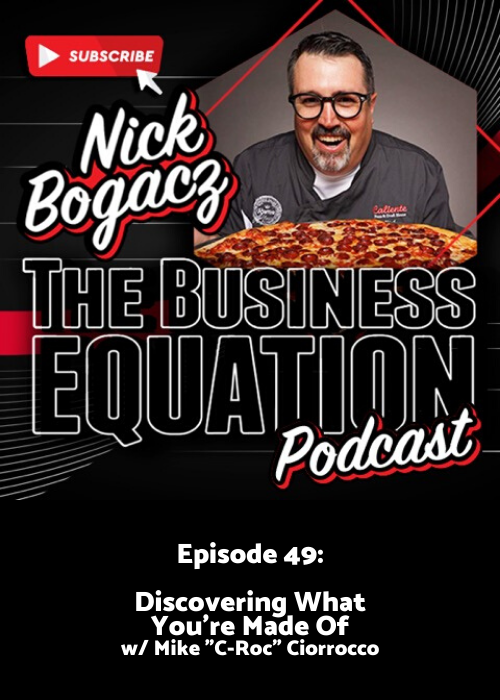 Tapping into your entrepreneurial drive and psyche gets talked about frequently on this show. And, as host Nick Bogacz often says, "if it gets said repeatedly, it must be important."
Today's episode is no exception.
On Episode 49 of The Business Equation Podcast, Nick is joined by the one and only Mike "C-Roc" Ciorrocco, one of the fastest rising influencers in the business world today.
FROM HIS WEBSITE: C-Roc is the CEO of People Building, Inc. He is a performance coach, author, dynamic public speaker, visionary, and thought leader. He has been featured by Yahoo! Finance as one of the Top Business Leaders to Follow in 2020 and is on a mission to build people. At his core, he's obsessed with success and helping others achieve greatness. C-Roc is a guy who had a fire lit in him at an early age. That fire has led him to inspire others to see the greatness inside of themselves using past life events to fuel their fire.
Nick and C-Roc dive deep into what makes a person truly tick and how their mindset ultimately determines the results they achieve. C-Roc's story begins at a young age and his dedication to positivity has helped him reach extraordinary heights, work with legendary people, and forge a path that will take him deep into the future…and you're invited to come along for the ride!
Visit C-Roc's website, themikecroc.com, to connect with Mike on his social media platforms, check out his podcast, learn more about what he does, and stay up-to-date on his upcoming book release.
Nick is a published author! Click here to check out his book, The Pizza Equation: Slicing Up How to Run a Successful Pizza Enterprise.
MUSIC CREDIT: Theme music for The Business Equation Podcast – Never Forget by Gareth Johnson & Chris Bussey, via www.audionetwork.com
Subscribe to The Business Equation Podcast Today!
Connect with Nick Bogacz and The Business Equation