EPISODE SUMMARY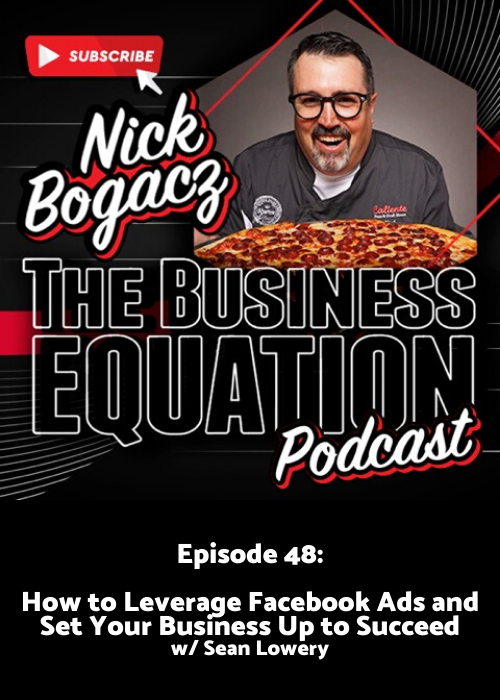 Have you ever hit a wall and felt like quitting? Have you ever put everything you had on the line for an idea you felt couldn't miss…only to have it miss by 157 miles? Have you ever felt like the deck was stacked so much against you, you had no chance to come out a winner?
If so, this episode is for you.
On Episode 48 of The Business Equation Podcast, host Nick Bogacz is joined by Sean Lowery, a serial entrepreneur who runs a successful t-shirt monogram company in South Carolina, as well as the host of his own YouTube show, The Sean Lowery Show.
Like all success stories, Sean's started from humble beginnings…doing everything he could to survive, adapt, and make his business grow. His efforts were met with countless obstacles, right down to having to open his house to Air BnB just to keep money coming in that he could put into his business. Today, Sean's company, United Monograms, is one of the most successful names in the monogram business and his company is known worldwide.
In this episode, Nick and Sean talk about the power of leveraging Facebook to increase your reach and best practices for putting Facebook Advertising to work. Over the course of the past few years, Facebook has shifted their platform and made it all but necessary for businesses to spend money to achieve reach. Whether you agree or disagree with their model, there's no denying the impact Facebook ads can have. In this episode, you'll learn from two advocates and veterans of Facebook how to capitalize on advertisements and get the best return for your investment.
Additionally, Sean and Nick delve into company structure and how Nick manages his crew of 200+ employees – emphasizing strong communication, delegation, and ensuring meetings and schedules are utilized every day of the week. As you'll learn, these items need to be a top priority if you want your enterprise to flourish.
To connect with Sean on his website and social media platforms, visit united-monograms.com.
You can also click here and subscribe to Sean's YouTube channel.
Nick is a published author! Click here to check out his book, The Pizza Equation: Slicing Up How to Run a Successful Pizza Enterprise.
MUSIC CREDIT: Theme music for The Business Equation Podcast – Never Forget by Gareth Johnson & Chris Bussey, via www.audionetwork.com
Subscribe to The Business Equation Podcast Today!
Connect with Nick Bogacz and The Business Equation