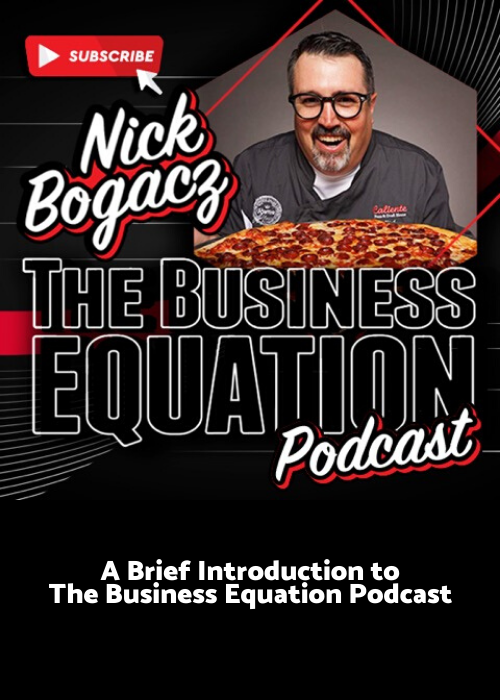 Welcome to The Business Equation Podcast! Hosted by Nick Bogacz, self-made entrepreneurial success story, The Business Equation is focused on helping business owners, managers, entrepreneurs, and anyone looking to bolster their results within their enterprise. Each episode features Nick covering various business scenarios, telling stories from his own experiences in building his multi-million dollar pizza empire, and solutions for you to apply Nick's proven tips and strategies to your own practices – no matter the size of your business or what niche it exists in.
In this brief introduction to the podcast, Nick shares his story. How does a young man with a new wife and two young children go from working five jobs simultaneously to running one of the most successful independent pizza enterprises in the Pittsburgh region? By working hard, never giving up, and refusing to fail every single day. And that's just the beginning…
Nick goes into detail about his time as a pizza delivery boy, working in multiple pizza shops, his time as a mailman (the place where, as Nick puts it, "where dreams go to die"), all the way up to the birth of Caliente Pizza & Draft House and his company's rise to World Pizza Champions and international pizza fame.
New episodes of The Business Equation Podcast will hit the podcast waves each and every Monday, helping you start your week off with a new business strategy to engage with in your practices. To launch the podcast, Episodes 1-5 will go live September 16th thru September 20th, a new one becoming available each subsequent day throughout the week. Subscribe and don't miss an episode!
Nick is also a published author! Click here to check out his book, The Pizza Equation: Slicing Up How to Run a Successful Pizza Enterprise.
MUSIC CREDIT: Theme music for The Business Equation Podcast – Never Forget by Gareth Johnson & Chris Bussey, via www.audionetwork.com
Subscribe to The Business Equation Podcast Today!
Connect with Nick Bogacz and The Business Equation