EPISODE SUMMARY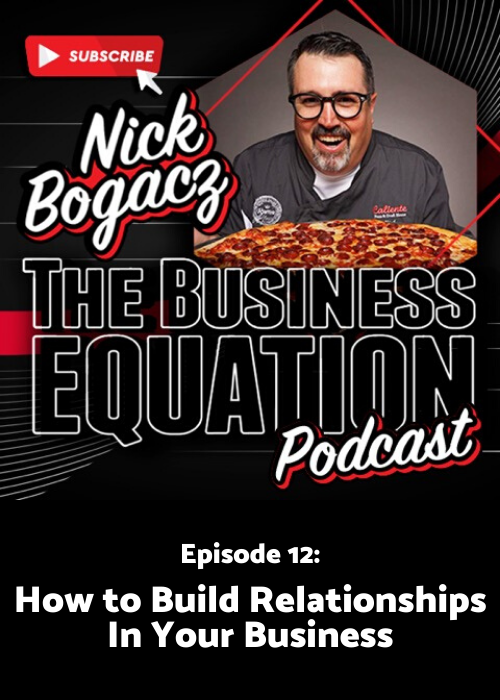 As the great Van Wilder once said, "Life is all about building relationships."
When it comes to your business, the relationships you foster can make or break you. You often hear people say, "I've got a guy for that." If this is true, it's because that person took time to establish a strong relationship and loyalty with "the guy." When you have a solid rapport with a vendor, contractor, supplier, salesperson, etc., you know you can depend on them to help you out whenever you need it. And vice versa.
In Episode 12 of The Business Equation Podcast, host Nick Bogacz taps into the world of building sound, quality relationships within your business – the types of relationships that can literally make or break your success. Nick shares some experiences he's had with various people in his years of business ownership. Some didn't work out…while others ended up being mutually beneficial relationships that Nick leverages each and every day to help his business operate smoothly.
Over the course of this episode, you're going to learn:
How do you pick your "team?"

Is getting the cheapest person the best way to get the job done?

Why honesty is a key attribute to those you choose to work with

Why surrounding yourself with the right people helps you focus on the most important aspects of your business

When does it make sense to bring the right professionals onto your staff?

How good it feels to fire a vendor that doesn't have your best interests in mind
Nick is also a published author! Click here to check out his book, The Pizza Equation: Slicing Up How to Run a Successful Pizza Enterprise.
MUSIC CREDIT: Theme music for The Business Equation Podcast – Never Forget by Gareth Johnson & Chris Bussey, via www.audionetwork.com
Subscribe to The Business Equation Podcast Today!
Connect with Nick Bogacz and The Business Equation
Facebook  |  Instagram  |  Twitter  |  Linked In