EPISODE SUMMARY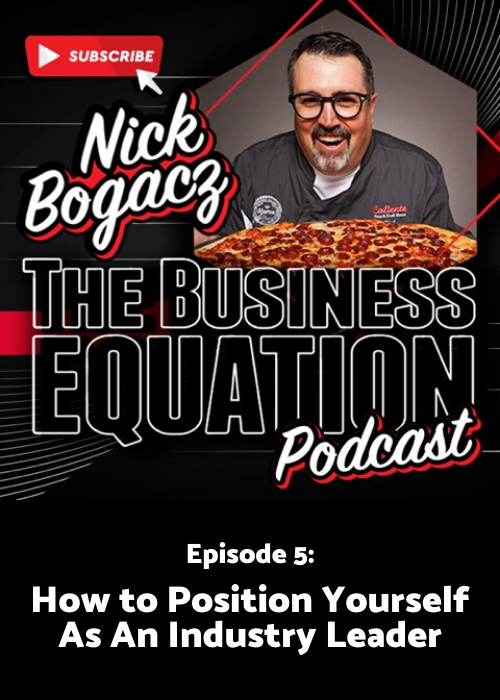 When it comes to the world of sport, the individuals who set goals to be the very best at their game are typically the ones who achieve the most. It's impossible to only train halfway, prepare halfway, and perform halfway and make it to the pinnacle of your game. The greats in any given sport mentally, physically, and emotionally prepare for years to be the very best. And their hard work pays off when they stick to it and never look back.
As you embark on your business niche of choice, your mentality cannot be that much different than that of a professional athlete. No matter what industry you're in, your goal should be to become the very best and maintain that reputation in perpetuity. Will you always get to the very top? Not always. But doing the extra things in your day-to-day practices will put you in a much better position to make it happen. 
In Episode 5 of The Business Equation Podcast, host Nick Bogacz tackles the subject of becoming an industry leader. Nick's pizza enterprise, Caliente Pizza & Draft House, has become one of the most successful independently owned pizza businesses in the Pittsburgh region. In seven years, Nick and his crew have opened up five successful stores and, on multiple occasions, received national and international recognition for their innovative pizza recipes and forward-thinking business practices. Nick has also received numerous speaking opportunities at trade shows and conventions to share how he's put his plans into motion.
How are you staking your claim to be a leader in your industry? In this podcast, Nick will tell you what he did to make it happen. Tune in to today's show and here several tips and strategies, including: 
Positioning yourself to talked about on a national and international level

Looking at others in your industry and discovering how they've risen to the top

What resources are important to help you grow and evolve? 

Being a 'genuine' leader, not just someone in it for the fame

Why it's important to attend trade shows in your industry

Setting goals to help you reach higher standards 
Nick is also a published author! Click here to check out his book, The Pizza Equation: Slicing Up How to Run a Successful Pizza Enterprise.
MUSIC CREDIT: Theme music for The Business Equation Podcast – Never Forget by Gareth Johnson & Chris Bussey, via www.audionetwork.com
Subscribe to The Business Equation Podcast Today!
Connect with Nick Bogacz and The Business Equation