EPISODE SUMMARY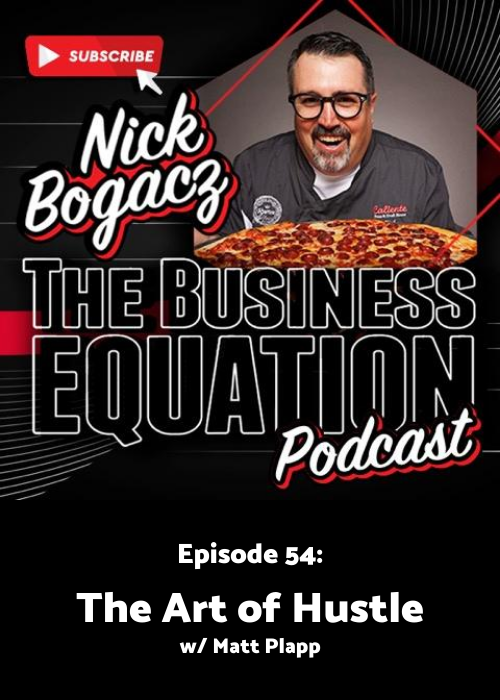 If you look up the word 'hustle' in the dictionary, you'll find a definition that reads "to proceed or work rapidly or energetically." You'll find some other meanings to the word as well, but let's stick with that definition for conversation's sake.
Working rapidly and energetically can be advantageous to your growth. But if you do it haphazardly without a clear vision of where that rapid work is taking you, chances are excellent you're not headed towards the outcome you desire. You're headed for burnout. Rapidly.
In Episode 54 of The Business Equation Podcast, host Nick Bogacz is joined by Matt Plapp, The ROI Expert, to discuss the art of hustle. Nick and Matt trade war stories from their past as they built the foundation on which their success stands today, including the number of hours they both worked each and every week.
This episode is filled with action-packed conversation about loving your process and embracing the failures that will inevitably come your way, not counting the hours in your work week, what restaurants and businesses as a whole can expect in a post-COVID world, how to efficiently hustle with purpose, and a whole lot more.
You can connect with Matt and discover everything he does to help businesses grow and thrive at www.mattplapp.com.
Nick is a published author! Click here to check out his book, The Pizza Equation: Slicing Up How to Run a Successful Pizza Enterprise.
MUSIC CREDIT: Theme music for The Business Equation Podcast – Never Forget by Gareth Johnson & Chris Bussey, via www.audionetwork.com
Subscribe to The Business Equation Podcast Today!
Connect with Nick Bogacz and The Business Equation