EPISODE SUMMARY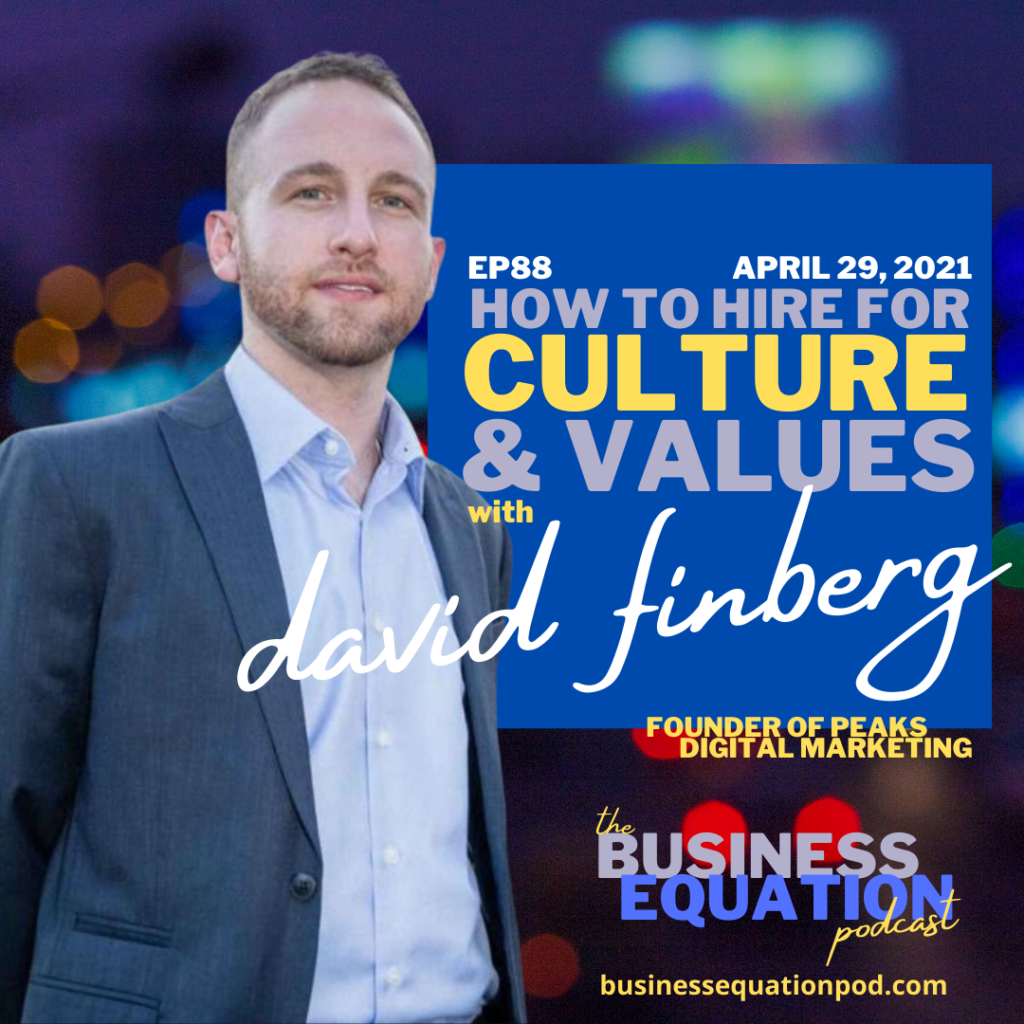 When you're hiring talent for your business, you're faced with two options: hire based specifically on the talent of that individual or hire based on how that individual will fit your company culture and values. It may seem logical to hire based on talent alone, but if a new team member does not align with your core values and the culture you've worked so hard to build, the potential for friction and issues throughout your organization immediately becomes more prevalent.
If you hire someone because their values align with yours, the probability of them staying with you long-term AND helping your business grow is much higher. You can train them on specific tasks you want them to excel in and give them space to grow into their position, but it's harder to do that when someone marches to the beat of their own drum.
In Episode 88 of The Business Equation Podcast, I'm joined by none other than David Finberg, the founder of Peaks Digital Marketing and a successful entrepreneur who transitioned from life as a car mechanic to that of company owner and marketing expert. David built Peaks Digital by hiring the right people for his organization and has proven that onboarding around culture and values can lead to positive results.
In addition to David sharing how he built Peaks Digital, we also talk about the undeniable value Search Engine Optimization, or SEO, has in today's marketplace, some basic strategies and approaches you can implement to leverage the power of SEO, the mindset you need to transition from the traditional career path to business ownership, and much more.
MORE ABOUT DAVID: David Finberg has been building websites since the age of 9 and decided to go all-in on the digital marketing industry in 2015 when he founded Peaks Digital Marketing. Since then, he's generated tens of millions of dollars in revenue and has a passion for growing small businesses and corporations through data-driven ROI-centered strategies.
As a "Digital Sherpa" for his clients, David helps guide them on the best online path for the success of their business. He defines success as doing what you want to do and making an impact in the lives of others.
You can learn more, connect with David, and pick up a free copy of Peaks' Blog Optimization Guide by visiting peaksdigitalmarketing.com/podcast.
Subscribe to The Business Equation Podcast Today!
Connect with Nick Bogacz and The Business Equation