EPISODE SUMMARY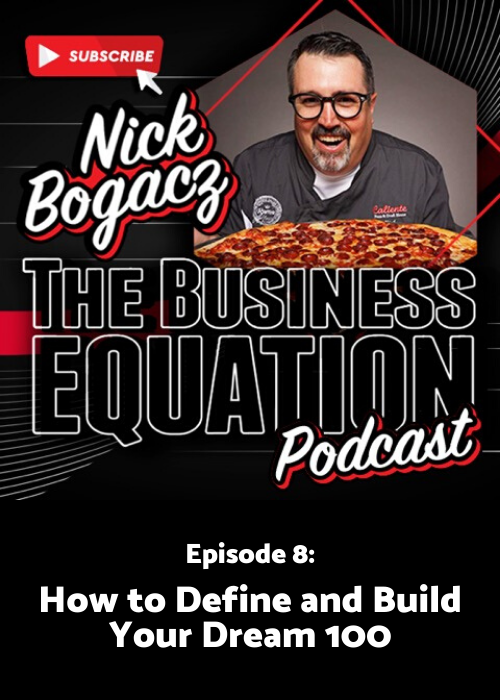 What is the Dream 100? 
The Dream 100 is a business practice that helps you ramp up your sales in a much quicker fashion. How can you sell 10, 25, 50, 100 of your product or service at once…instead of going through the laborious work of getting your goods out there one unit at a time? The answer…is The Dream 100.
In Episode 8 of The Business Equation, Nick Bogacz breaks down his unique Dream 100 approach and explains how you can make it work for you. This approach will help you grow your sales exponentially and, as all business owners should be striving to do, allow you to work smarter, not harder.
Get your notebooks ready and discover what The Dream 100 is all about:
What is the Dream 100?

How did Nick implement the Dream 100 process successfully into his business?

Best practices for truly making this philosophy work

Tailoring a 'big pitch' to specific industries to amplify your reach at a quicker pace

How to start small and build on your list every day
Nick is also a published author! Click here to check out his book, The Pizza Equation: Slicing Up How to Run a Successful Pizza Enterprise.
MUSIC CREDIT: Theme music for The Business Equation Podcast – Never Forget by Gareth Johnson & Chris Bussey, via www.audionetwork.com
Subscribe to The Business Equation Podcast Today!
Connect with Nick Bogacz and The Business Equation