EPISODE SUMMARY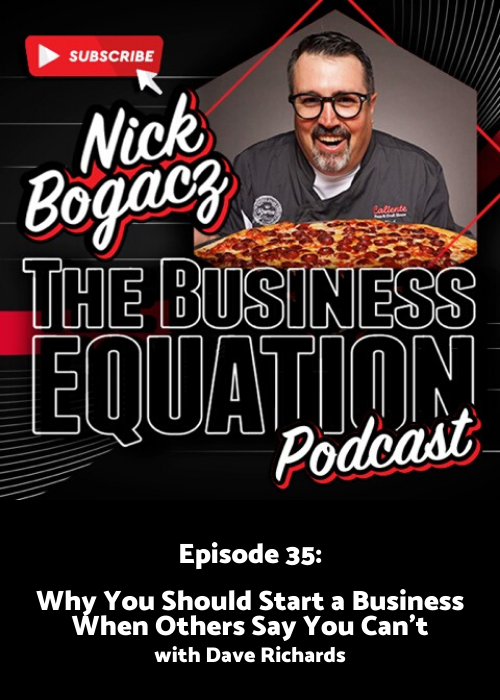 Starting a business is no easy endeavor. If you've done it, you know. And if you're in the beginning stages of taking that leap, you've probably already gotten a taste. It takes all the effort you can muster to make it all come together and on some days, even your all doesn't feel like enough.
When starting anything, there's more than likely going to be at least one person who's going to tell you it's not a good idea. They may feel they have your best interests at heart, but the reality is they really don't know what's in your mind, what's fueling your desire, and what's guiding you towards chasing your passion. Only you can answer that. And if you let the outside voices dictate your actions, your venture will never get off the ground. Period.
On Episode 35 of the Business Equation Podcast, host Nick Bogacz is joined by his friend Dave Richards, founder of DR3 Contracting in Pittsburgh, PA. Dave followed the same path as Nick – worked for several different employers, gained a wealth of knowledge and experience, and finally made the decision to start his own enterprise and put everything he had learned into action for himself. As you'll learn, Nick's guidance helped Dave take that blind leap of faith that led to his successful business practice today.
Nick and Dave also talk about the value of zeroing in on the biggest aspects of your business to increase cash flow, the importance of networking in your industry…no matter what industry you're in, and much more.
Nick is a published author! Click here to check out his book, The Pizza Equation: Slicing Up How to Run a Successful Pizza Enterprise.
MUSIC CREDIT: Theme music for The Business Equation Podcast – Never Forget by Gareth Johnson & Chris Bussey, via www.audionetwork.com
Subscribe to The Business Equation Podcast Today!
Connect with Nick Bogacz and The Business Equation