EPISODE SUMMARY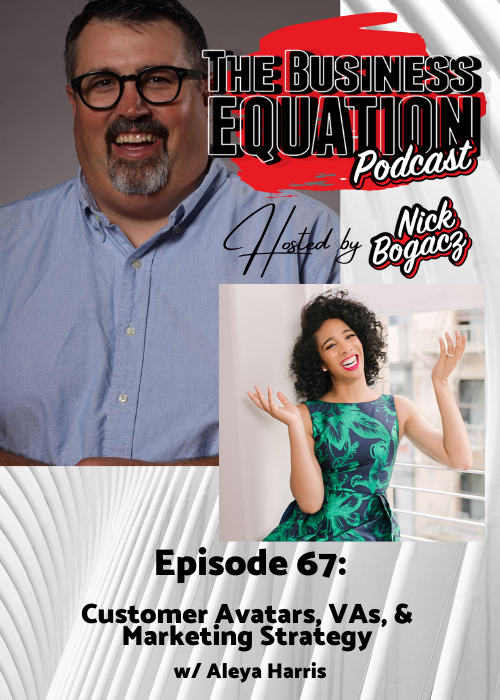 Pinpointing your ideal customer can be game changing. It will help determine your marketing strategies, how you want to build advertising campaigns, and give everyone in your organization a clear idea of who you're serving.
To do this effectively, developing a customer avatar is a worthwhile exercise that will result in numerous long-term benefits for your brand. As you'll learn on today's episode, it may take a moment to get your crew on board with performing this exercise. But in the end, it's something that will help everyone perform their duties better.
In Episode 67 of The Business Equation Podcast, Nick Bogacz goes one on one with Aleya Harris, Owner of Flourish Marketing. Aleya brings a wealth of marketing savvy and business insight to the conversation as the duo dive deep into developing customer avatars and determining who your main customer is (no matter what industry you're in), how Aleya brings Virtual Assistants into her operation (and gives them raises for a job well done), and various marketing strategies that you can implement into your business today! They also cover Search Engine Optimization (SEO) basics and tell you why you should be cognizant of your search engine presence.
To learn more about Aleya and connect with her directly, visit flourishmarketing.co.
Nick is a published author! Click here to check out his book, The Pizza Equation: Slicing Up How to Run a Successful Pizza Enterprise.

MUSIC CREDIT: Theme music for The Business Equation Podcast – Never Forget by Gareth Johnson & Chris Bussey, via www.audionetwork.com
Subscribe to The Business Equation Podcast Today!
Connect with Nick Bogacz and The Business Equation