EPISODE SUMMARY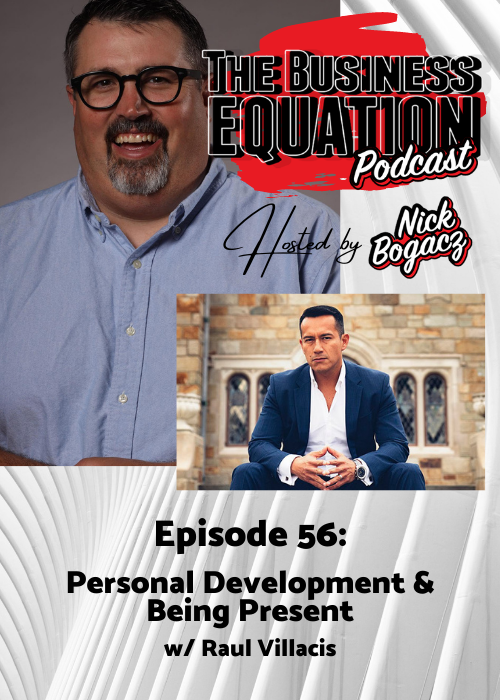 There is going to be a time in your life when you feel like you're down for the count. It's inevitable. No matter what path you walk, there will be circumstances that are out of your control and, quite frankly, make you question it all.
But, it's how you respond to these circumstances that defines your success. And, as today's guest puts it, you have no choice but to "figure this shit out."
On Episode 56 of The Business Equation Podcast, host Nick Bogacz is joined by the one and only Raul Villacis, founder of Next Level Experience. Raul is one of the most straightforward and passionate guests Nick has had on the show to date and it won't take long for you to discover why.
From his times of failure and losing it all to problems with drinking and taking care of himself to his self-awakening and return to prominence, Raul explains why personal development and being present in your everyday life are key to your survival, both in your professional and personal life.
Raul inspires people every day and you can join him on that journey. Visit nextlevelexperience.com to learn more and connect with Raul on YouTube and Instagram.
You can also text the word 'podcast' to 203-405-9199 to receive Raul's Daily Edge Podcast!
Nick is a published author! Click here to check out his book, The Pizza Equation: Slicing Up How to Run a Successful Pizza Enterprise.
MUSIC CREDIT: Theme music for The Business Equation Podcast – Never Forget by Gareth Johnson & Chris Bussey, via www.audionetwork.com
Subscribe to The Business Equation Podcast Today!
Connect with Nick Bogacz and The Business Equation